Discover more from Penbook Dev Log
Keep up with Penbook's development and get behind-the-scenes details and access.
Over 14,000 subscribers
Hello, friends
Penbook 2.0 is here.
Weird times, hey? I guess it's just 'weird' for those of us who are lucky – for lots of people, it's terrifying, or stressful, or dangerous, or sad. I hope it's just weird for you.
Our team is still working on Penbook as hard as we can. Our company was already fully remote, so we were luckily spared the workplace upheaval that others are facing. We're trying to make the best of it by changing Penbook's development priorities. Now, we've shifted our focus towards helping our users work, learn, and dream while they're stuck at home.
Today, we're launching Penbook 2.0. The writing experience is mostly unchanged, but everything around it has been torn apart and put back together. We added a better navigation flow, so it's easier to get in and out of your penbooks. There's a new thumbnail grid that gives you a better sense of place within your work. A slew of interface bugs that were holdovers from 1.0 were finally excised.
We've hit version 2.0, so it feels like it's time to remove our 'launch special' pricing. Penbook will get more expensive for new subscribers in the next few weeks, but don't worry – if you're already a subscriber, your existing subscription price will remain unchanged forever.
What you'll like most about Penbook 2.0 is that your notes are now searchable. Penbook recognizes your handwriting, so you can search for written snippets in your notes. This is 100% on-device. Your handwriting (and also Penbook's interpretation of it) does not leave your iPad. You'll see the search bar in the thumbnail view: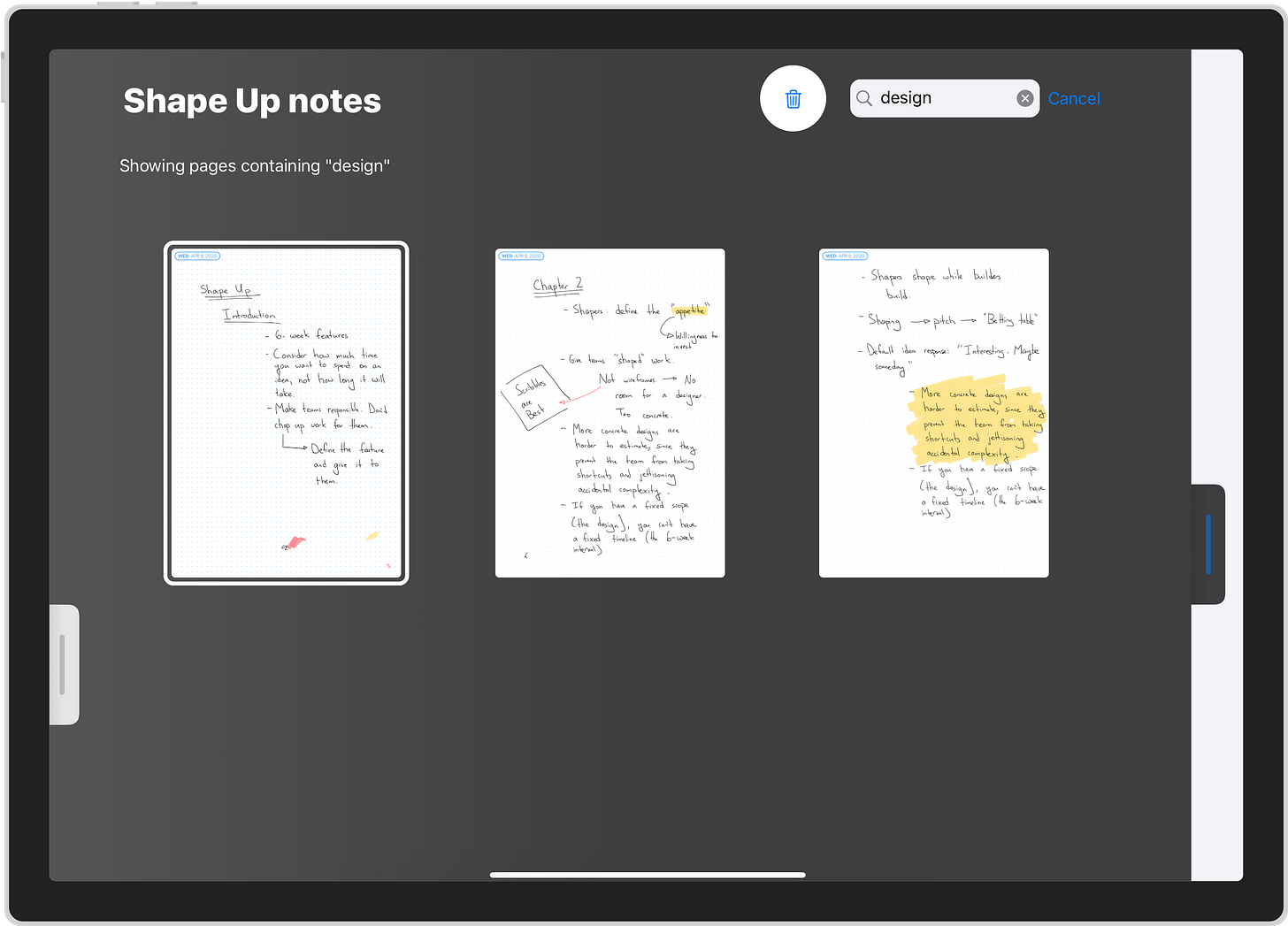 We hope our app helps in a small way while we're all stuck at home – I use it as a teaching aid with my kindergartener, my dad used it to plan a renovation project for when normalcy returns, and maybe you can use it to dump out stress, learn something, or doodle, or whatever.
I'll write again when our next thing is ready. It's something to help with the problems of physical distancing.
Sincerely,
Ben
Team Penbook